Fit Mother 30X +
Fit Father 30X
You + Your Spouse Can Lose Weight & Get Healthy
Together On A Sustainable Plan That Works
Trusted by over 34,000 families in 98 countries. Meal Plans + Workouts + Motivation. You get EVERYTHING.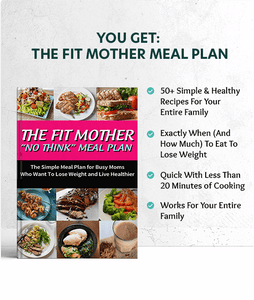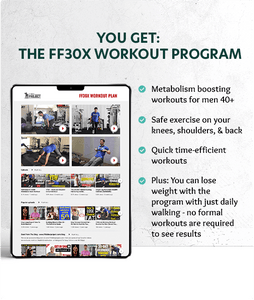 ADD TO CART »
Simple Meal Plan, Safe Metabolism-Boosting Workouts, & Accountability coaching included.
Start today risk-free » * Backed By our Ironclad 100% Satisfaction Guarantee * Love the program & your results or you pay nothing.
With The Fit Family Bundle, You And Your Spouse Can Finally Lose
Weight & Get Healthy On Simple Plans You'll Love Doing Together
YOUR FIT FAMILY BUNDLE INCLUDES:
The Fit Mother Meal Plan Designed for busy moms 30+ who want to lose weight,
tone-up, & help their entire family live healthier too. Featuring
simple, affordable quick-cook recipes you'll love and your
family will want to eat!
The FM30X Workouts These time-efficient Fit Mother workouts will boost your
metabolism, tone your body, and increase your energy. No
gym required. Designed for busy moms.
The Fit Mother Sisterhood Your spouse will also get access to her own member's website
& private accountability group for Fit Mothers where she'll
stay motivated & accountable.
The Fit Father Meal Plan Designed specifically for busy guys 40+ who want to lose
weight. The meal plan includes simple, easy recipes and food
that will keep you full all day. This is a sustainable meal plan
that you'll finally love sticking to.
The FF30X Workouts These safe, joint-friendly workouts will help you burn fat and
build muscle in just 35-min sessions. All you need is a pair of
dumbbells and 5 ft of floor space.
The Fit Father Brotherhood Inside this VIP member's only group, our team of expert
coaches will keep you motivated & on track from Day #1 of
the program to ensure you succeed.
We've Helped Thousands Of Fit Family Members
Get Healthy Together
Get Your Family Healthy Today - 100% Risk Free
The Fit Family Bundle hands you everything you & your family need to lose weight, boost your metabolism, build muscle, and make health changes that actually last.
This proven Fit Family Bundle is backed by our Ironclad 100% Satisfaction Guarantee: you lose weight and fall in love with the program or you pay nothing. Join over 10,000 of your fellow moms and dads inside this proven program & start seeing real results that last.
GET FIT FAMILY BUNDLE -
JUST $247 »
100% Satisfaction Guarantee.
Get the Fit Family Bundle today. You and your spouse see incredible results...
or you pay nothing. After helping thousands of busy men & women succeed
with these programs, our team is so confident that FF30X + FM30X will be the
BEST FITNESS SYSTEM you've ever used that we're willing to offer you this
ironclad money-back guarantee: use the programs for 60-days and see the real
results for yourself. If you or your spouse are not satisfied with anything for any
reason, you get a 100% refund. No questions asked. This isn't about the money
for our Fit Father & Fit Mother Project Teams. It's about the mission of helping
busy parents like you get and stay healthy for life. Get started today risk free.
GET FIT FAMILY BUNDLE -
JUST $247 »